Here's an example of a Special Request Announcement Crafted by Poly Graphics
A few weeks ago we received a special request from Carmen for a graduation announcement. She wanted to include 3 photos. A young photo of her son, a photo of him as he is today, and a graduation cap. Carmen wanted a folded card that had her son's young photo on the front, then his graduation photo and graduation announcement wording inside. We said "Yes". This was definitely something that we could do for Carmen.
A few days later Janet, one of our designers, crafted what you see here. The announcements turned out great! These photos don't do it justice – it really looks nice in person. (we blurred the wording intentionally in the inside photo)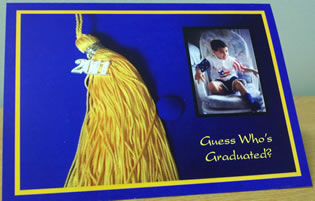 Carmen saw the draft that Janet prepared and was very happy. When Carmen received the announcements, she was overjoyed. Carmen got more than she expected!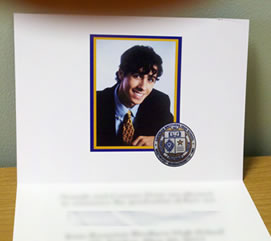 Carmen's announcement special request was completed – from asking to delivery-  in 2 weeks time. Her unique announcements were limited to exactly how many she wanted – truly personalized printing. We kept one to use as a sample because it turned out so great.
For most special requests we ask for a week to prepare the design. With busy days at Poly Graphics and our children's schedules we can usually find time in a week for special requests, but not in our normal 24 hour turnaround.
We do not charge extra for special requests if the design is something that we can add to the invitation collection at PolyGraphics.com. We did have to charge a design fee when we had a request for an Ultimate Frisbee + Wine Tasting Wedding Shower. If your event is something that other people may want to buy from our website, and not as unique as the frisbee + wine tasting celebration there will be no design charge.
Note that our availability for Special Requests is limited, so please give us plenty of lead time. If we have several special requests already underway, yours may be delayed because we just cannot fit everything into the time we have. Please understand that we want to do our best work for you and to craft the perfect announcement for you takes time.
If you have a Special Request, ask here
P.S. Thank you for the opportunity to prepare something special for your celebration
P.P.S. When you order from Poly Graphics you are getting personalized, limited edition cards, that are crafted to your specifications.
Recent Related Posts
Fast Invitations sent to you the same day you order!
Questions and Answers About Graduation Announcements